In the UK's New Year Honours List January 2016, Jane was awarded the British Empire Medal for Services to Tea Production and Tea History.
At the World Tea Awards ceremony on 31st May 2014 on board The Queen Mary in Long Beach, California, JANE received Best Tea Educator Award.
At the World Tea Awards ceremony on 7th May 2015 on board The Queen Mary in Long beach, California, JANE received Best Tea Personality Award and Best Tea Health Advocate.
Check out the new UK Tea Academy:
Jane is now Director of Studies of the new UK Tea Academy. For more information and to book Masterclasses please visit: www.ukteaacademy.co.uk
Latest Publication:
Tea Sommelier Handbook, by Jane Pettigrew & Victoria Bisogno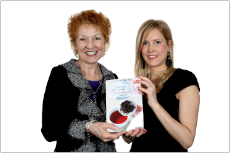 Tea Sommelier Handbook by Victoria Bisogno and Jane Pettigrew.
The demand for Tea Sommelier training is growing fast all around the world and Spanish speakers in the US, Mexico and Latin America are amongst the increasing number of tea lovers who want to learn more about their favourite beverage. The Tea Sommelier Handbook gives information about the history of tea, the tea plant and how it grows, teas from different countries, manufacturing styles, brewing techniques, tea service, sensory evaluation, tea ceremonies, tea cocktails, and the etiquette of tea. It is now available in just Spanish or in a Spanish/English edition. For more information or to order a copy, go to www.elclubdelte.com
Latest Video
Comments from some of those who have attended a masterclass
"We would like to thank you and Tim for the excellent class on Saturday. Such a relaxed attitude, perfect timing and an absolutely thrilling experience. I would certainly recommend your course to anyone."
"Thank you for delivering such a terrific Masterclass - it was a perfect balance between theoretical and the practical and it was beautifully rounded off by a sumptuous afternoon tea."
"I enjoyed the class so much. I was impressed with how much information you pack into such a short time and yet it's so much fun."
Jane's Books
Jane has written 14 books on the many and varied aspects of tea, its production, history and culture, and she writes for tea related magazines and journals.

Her 'Tea Lover's Companion' is now out of print but a brand new edition is available with the title 'Tea Classified'. This has updated information, lots of new photos and, in the directory, new information and new photos of teas from tea regions not included in previous editions - Vietnam, Korea, Bolivia, Bangladesh, Brazil, Thailand, the UK and the USA. This is the ideal book for all new tea lovers and for anyone who wishes to find out more about tea manufacture, different categories of tea, and what types of tea come from different tea producing countries.
She also gives regular tea masterclasses and tea tastings, speaks on radio and TV and acts as consultant to tea companies, new tea businesses, table ware and tea ware companies.
To book a Tea Masterclass online, please visit the booking page by clicking here.